Texas Bore Pigs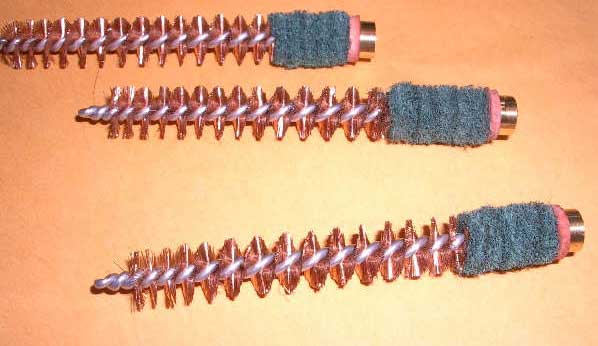 The photo posted shows the .38 caliber bronze bore pigs. What you see in the picture are the bronze bristles that loosen up the fouling, followed by the 3M discs that hold the liquid and collect the fouling, and then a rubber washer that is cut a little over groove diameter thus acting like a squeegy to push the liquid out. A brass nut holds the thing together.
INSTRUCTIONS
Place pigs in container of water to saturate. Drain off water before going to the firing line.
After the first shot, shake excess water off the pig and chamber the pig bristle end first.
Use a rod or dowel to push the pig down the bore making sure it exits the muzzle!
Remove rod or dowel, chamber another round. Fire and repeat above as necessary.
CLEANING
Between relays: rinse pigs in clean water, drain off excess and they are ready for the firing line.
After the match: clean with soapy water, rinse to remove soap and set out to dry.
HINTS AND SUGGESTIONS
A wood dowel rod cut to length makes a great rod. A cleaning rod without the jag will also work.
A large piece of cloth on the ground in front of the muzzle to catch the pigs helps greatly.
A pig run down the bore after the last shot helps.
The pigs are sold in a pack of 15. One for each silhouette and 5 sighters.
They sell for $65.00 per set. $2.00 shipping and handling......mailed first class. For us Texans add 6.75% sales tax.
Right now they are offered in .38 (375) caliber, .40 caliber, .45 caliber and .50 caliber.
All are offered in either bronze or nylon bristles, your choice. The bronze take a little more effort to push through the bore, but they both clean the same. The .38 and .50 caliber pigs use bristles of "rifle" length until I can find something shorter. The .40 and .45 caliber use "pistol" length bristles. Nothing wrong with the longer bristles, they just take a more effort to push down the bore.
For mail order checks or money orders can be sent to:
Rick Morrill
4237 Boxwood Dr.
Denton, TX 76208
940-271-1222
morrill45@verizon.net
Anyone living outside the USA E-mail me and I'll let you know what the shipping charges will be.
Feel free to contact me with any questions.