We are an organization of Cowboy Action Shooting enthusiasts from New England that are affiliated with the Single Action Shooting Society (SASS). Not only do we attend many shoots in the Northeast and around the country, we also host Cowboy Action Shooting events each year at the Kinnicum Fish & Game Club located in Candia, NH.

We ran the first SASS New Hampshire State Championship in August 2001 and additional ones in 2004, 2010, 2012, 2013, 2014 and 2015.

We normally run a number of Cowboy Action Shooting events each year. We welcome all cowboy action shooters to our shoots, as you don't have to be a WMR member to shoot in them. Registration runs 7:30 am to 8:45 am, then the mandatory shooter's safety meeting at 8:45 am and shooting starts at 9:00 am.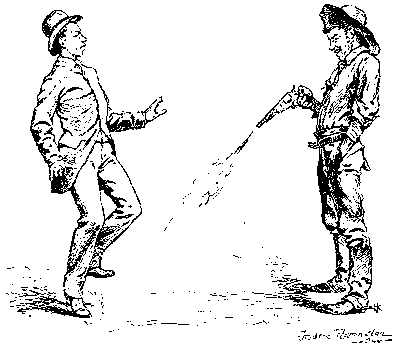 We welcome new members and probably won't even make you dance. Contact Ray Carter also known as 'Dead Head' for additional information. You need to have a current membership with SASS and get two sponsor signatures from current White Mountain Regulators of New Hampshire members, preferably from members you know or have shot a match with.
Mail the application along with a check or money order for $50.00 made to "White Mountain Regulators" to:
Ray Carter
3 Sierra Hill Drive
Dover, NH 03020
(603)957-0377
raypcarter@comcast.net
If you prefer, you can bring your application and check to the next White Mountain Regulators of New Hampshire cowboy shoot.