Dates
The Major Waldron Sportsmen's Association in Barrington, NH hosts a series of Cowboy Rifle Metallic Silhouette Shoots at distances of 200 and 300 yards at hanging steel targets on the following dates:

The 2017-2018 dates:

Saturday, October 28, 2017
Saturday, November 18, 2017
Saturday, December 2, 2017
Saturday, January 6, 2018 - CANCELLED
Saturday, February 10, 2018
Saturday, March 10, 2018




Come on out and "bang and clang" with us. We have a covered firing line and we will shoot year around unless the weather is so poor that we can't see the targets.

Eye and ear protection is required for everyone, including spectators, while on the range!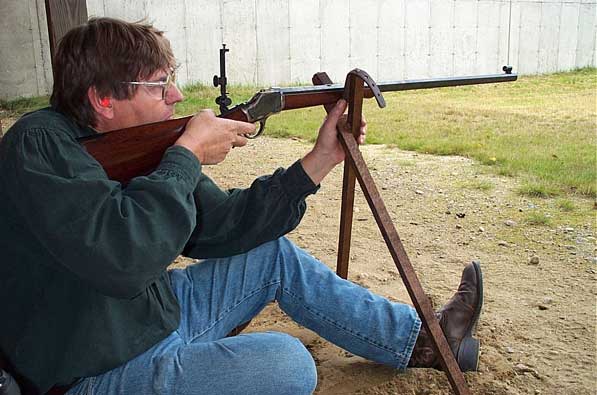 Shooting a Winchester 1885 Highwall Rifle in .38-55 off cross-sticks at 300 yards.
Major Waldron Sportsmen's Association
Ray Carter - Match Director
Route 9 (1.1 miles east of Route 125)
339 Franklin Pierce Highway
Barrington, NH 03825
Match Director's Cell Phone: 603-957-0377
Designed by Ray P. Carter, Webmaster