Directions
MWSA is located on the north side of Route 9 about 1.1 miles east of Route 125 on the very eastern edge of Barrington, NH.

If coming from I-95: take Spauding Turnpike (Route 16) northwest from the Portsmouth, NH area about 9.5 miles to Exit 8W. Follow Route 9 west for about 4.8 miles (remember to turn right on Route 9 at the first traffic light) until you see the club on your right. It is the third house on the right after you enter Barrington. If you get to Route 125, you went 1.1 miles too far.

If coming from Route 101: take Exit 7 (Route 125) north towards Rochester for 14 miles. Route 9 is about 4.5 miles north of Lee Traffic Circle (Route 4 and Route 125). Take a right and go east on Route 9 about 1.1 miles and look for the clubhouse on your left.

If coming from anywhere else: Get a NH map and look at it. Or go to www.mapquest.com and enter your location. Then enter "Ham Road and Route 9, Barrington, NH" as the place you want to go and follow the directions.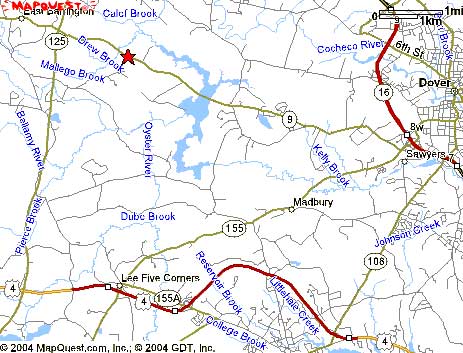 Come on out and "bang and clang" with us. We have a deep covered firing line and will shoot year around unless the weather is so bad we can't see the targets.
Eye and ear protection is required for everyone, including spectators, while on the range!
Major Waldron Sportsmen's Association
Ray Carter - Match Director
Route 9 (1.1 miles east of Route 125)
339 Franklin Pierce Highway
Barrington, NH 03825
Match Director's Cell Phone: 603-957-0377
Designed by Ray P. Carter, Webmaster